We are passionate about helping people channel their inner chef!
Mission
Our mission is to provide a safe platform for children and aspiring chefs to learn life long skills and create healthy meals. We exist to inspire and empower people by teaching proper techniques and allowing creativity to boost confidence.
Staff
Cathey is passionate about teaching children and helps them build their confidence.  Cathey is also passionate about helping mothers by providing them with simple tools to help them serve their kids by showing them that preparing meals can be easy and an activity that they can do with their kids. Cathey's vision came from a desire to help our society lower obesity rates by using healthy ingredients and teaching her students about recipe substitution and making healthy meals.  She's partnered with her oldest daughter, Sunshine.
Sunshine has extensive experience working with kids as a leader and athletic coach during and after her high school years. She loves working with children and teaching them her passion for cooking is most exciting!  Sunshine is well rounded in the kitchen and has been cooking since she was 5.  In addition to a taking a full load of college courses and working a part-time job, Sunshine will be assisting with class preparation, food tutoring, contests, and more! We are proud to have such an experienced foodie on our staff 🙂
Cathey keeps my daughter #YuriahMulan so excited to get in the kitchen and learn something new! Her skills working with children is so refreshing making me comfortable to leave my child in her care and her cooking experience makes me feel confident in my investment!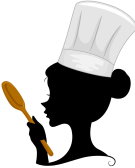 Junior Chef University
Southern California (nationwide soon)